From an article in House and Home magazine, Ireland, 2017
"OUR FAVOURITE SPACES: IRISH INTERIORS EXPERTS TALK LOUNGING LOOKS"
Ireland's top interiors experts talk their favourite lounging looks, and how to put these trends to work. Diana Valentine, owner of Home-Lust.com reckons that creating a style for any room has a lot to do with psycology, and should be full of your own personality.
Diana's top tip for designing your space is:
"Don't let the larger furniture pieces dictate the style of the room. Choose your sofas and armchairs in neutral colours and simple shapes, and go as big as the room allows. This space is for lounging, a playroom for adults, really, so bring in the element of comfort but steer clear of bold patterns or faddy designs for your seating."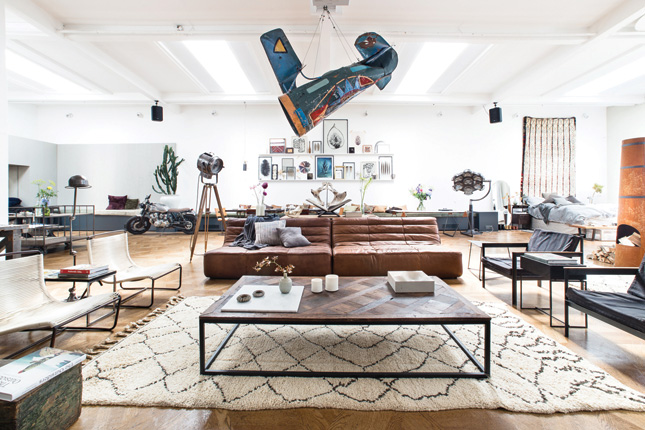 "Some of the best-styled interiors I've come across lately, outside decor magazines are created by a Dutch design agency called The Loft. They run a recurring conceptual pop-up store, devising seductive spaces that are both refined and highly functional. One of my favourite projects by The Loft is this penthouse studio that centres around a large living area decorated in a classic yet idiosyncratic style, which might be hard to classify, but I call it preppy minimalism.
The focus here is on communal spatial arrangement, beautiful striking shapes and the use of natural materials like wood, leather, textiles and ceramics. I love the combination of classic mid-century style armchairs, and the playful, über-modern sofa. The vibe is relaxed, yet highly elegant.
The industrial pieces work wonderfully well with the ethnic and eclectic touches, such as the Beni Ourain rug, the vintage travel trunk and handmade ceramics. It's a dreamy, wanderlust-inducing room that invites you to relax, but also encourages you to plan your next trip; the suspended aeroplane is like a reminder to never stop exploring."